How Functional Medicine Can Help People With Cancer
Getting diagnosed with cancer is overwhelming for any patient and their family. The many types of cancer, the different ways they affect the body, and the modalities used for treating them are bewildering, and that's just the physical aspect. The emotional and mental impacts of a cancer diagnosis also affect the outcome of the condition. The patient's personality, attitudes, beliefs, family and social support systems, and lifestyle habits all play crucial roles in the success of whatever treatment is used.
With so many different factors influencing the patient's prognosis, trying to address all of them without a coherent strategy can be disorienting. This is where having a Functional Medicine (FM) doctor on one's healthcare team can make a difference. While the oncologist handles the treatment of the cancer, and various subspecialists help treat concomitant diseases as needed, the FM doctor can guide the patient in weaving all the different threads together to form a holistic treatment plan.
Why Is Functional Medicine Helpful for Cancer Patients?
A study published in 2019 which looked at over 7000 patients seen at the Cleveland Clinic's Center for Functional Medicine (CFM) determined that "the functional medicine model of care demonstrated beneficial and sustainable associations with patient-reported health-related quality of life". Practitioners of this systems biology approach take into account the often overlooked lifestyle habits that determine one's health — nutrition, sleep, stress levels & coping mechanisms, mindset, and exercise — and also one's support systems. Addressing these root causes of health helps improve the overall condition of the patient and further enhance the effectiveness of standard cancer treatments such as chemotherapy, radiation, and surgery.
The CFM also highlights the more "patient-centered" nature of the functional medicine approach wherein the patient is an active participant in determining and implementing his/her therapy. One of the subtle but significant effects of being diagnosed with a critical illness like cancer is the loss of one's sense of control. This has a profound impact on the patient's wellbeing, and compounds other emotions associated with a cancer diagnosis like denial, anger, fear, anxiety, depression and grief. The participatory and proactive nature of the FM framework helps the patient regain some measure of feeling in control which can help lift their emotional wellbeing.
If you're interested in this approach, you can make an appointment at the BioBalance® Wellness Institute located in Mandaluyong City. This personalized medicine center offers online and in-person consultations, as well as specialized tests that help you determine current health status.
Their portfolio of advanced tests allows their doctors to evaluate the body's functions and determine imbalances that are contributing to disease. One of the most requested tests looks at biomarkers called organic acids that give information about how one's cells are making energy, and whether or not they have enough micronutrients to function properly. Another frequently used test is a stool profile that provides a window into gut health, including information about digestion capacity and the composition of the bacteria in your gut. Other test panels measure: nutritional status in relation to protein and essential fatty acids; the extent of free radical-induced cell damage; exposure to and levels of environmental toxins and heavy metals; advanced lipid profiles. All of these play a role in the risk for developing chronic conditions, including cancer.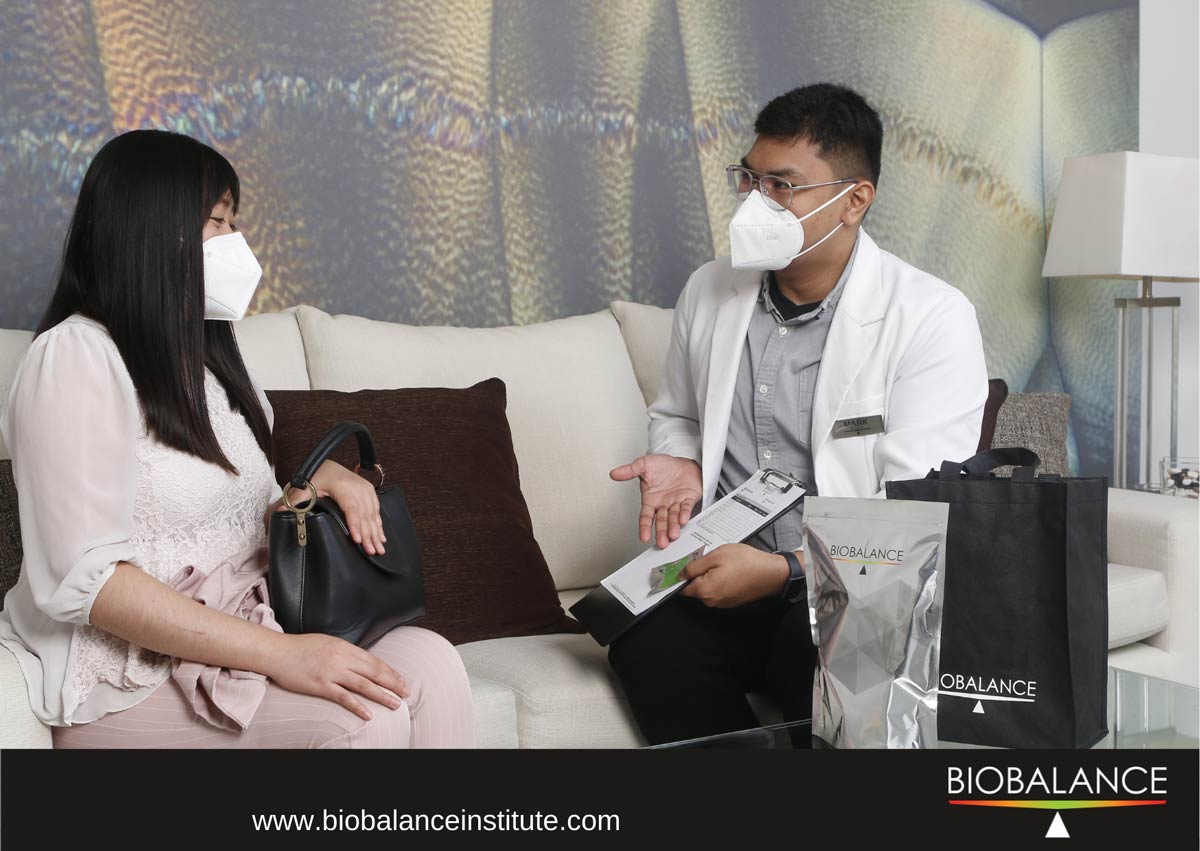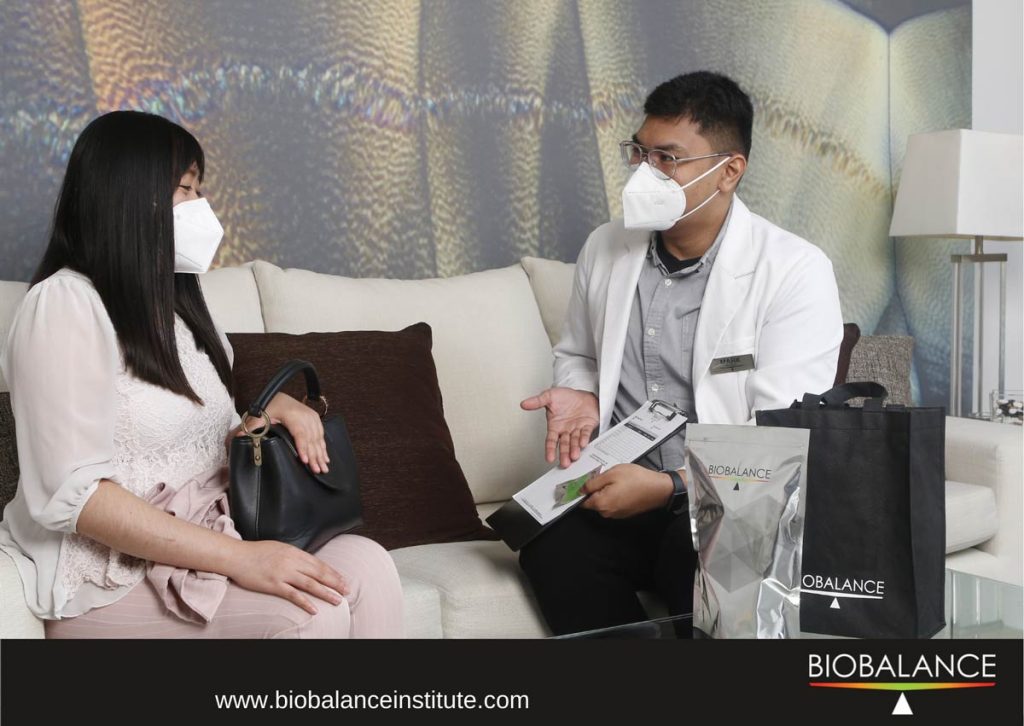 BioBalance® Wellness Institute also offers a well-curated line of supplements that support specific health needs such as gut, heart and brain health, immunity, weight management, and better sleep.
Their roster of health professionals includes doctors who have completed training with the Insititute of Functional Medicine (IFM).
Dr. Stanley Chua: The resident consultant of BioBalance® Wellness Institute , Dr Stan is European Double-Board Certified in Nutritional Medicine and Anti-Aging Medicine. One of the first IFM-certified doctors in the country, he is also an accredited medical acupuncturist.


Dr. Rolando Balburias: One of the pioneers of Functional Medicine in the country, Dr. Oyie focuses on using food as medicine. He is both IFM-certified and European Double-Board Certified in Nutritional Medicine and Anti-Aging Medicine.


Dr. Denise Herrera-Lavilles: Among the first IFM-certified doctors in the country, Dr. Den has a degree in Molecular Biology, complemented by her Internal Medicine training and coursework in Molecular Medicine. Her practice focuses on health promotion and disease prevention for adults.


Dr. Angelica Lorenzo, F.P.C.P: Trained in both Internal Medicine and Functional Medicine, Dr. Eca is the first HeartMath Certified Trainer in the country. With additional training from the Center for Mind Body Medicine (CMBM) in the US, she helps patients learn how to transform stress, improve heart rate variability, and enhance their mind-body connection.
To learn more about dealing with cancer and issues related to it, check out Hope from Within for more insights and guidance.
---
References:
https://www.mayoclinic.org/tests-procedures/chemotherapy/about/pac-20385033
https://www.webmd.com/a-to-z-guides/what-is-a-functional-medicine-doctor
https://www.cancer.gov/about-cancer/treatment/cam
https://medlineplus.gov/ency/patientinstructions/000932.htm
The Psychological Impact of a Cancer Diagnosis (welldoing.org)
https://jamanetwork.com/journals/jamanetworkopen/fullarticle/2753520